Kennesaw Roofing
With over two decades of experience, our Kennesaw roofing service and replacement experts are well equipped to help with all of your roofing needs.
Kennesaw Roofing
Not only are we great with home remodeling projects, but we are also great with customers. We understand that our future depends on you, which is why we focus on customer satisfaction during all home remodeling jobs. If you are in need of roofing services, call us today for your free quote!
SuperiorPRO offers professional roofing services in Kennesaw, GA. We are proud to offer the following:
Full Roof Replacement
Asphalt Shingles
Low Slope Roof Systems
Let Us Help You!
If you're looking into an exterior renovation project, contact Atlanta's experts at SuperiorPRO. We can help update your home to ensure all the important little details turn out perfectly!
Atlas Shingles
Our area of the southeast United States can experience a lot of different weather conditions, from major storms to heat. The roofs of the homes in our area often take the brunt of these difficult conditions. Our expert Kennesaw roofing service team can evaluate your home's roof and recommend the best replacement options at an affordable price. At SuperiorPRO, we are proud to be a certified installer of Atlas Shingles. Manufactured by Atlas Roofing Corporation, these shingles and all the associated products are endorsed by our company. There are also types of shingles, Atlas Pinnacle Pristine and the StormMaster Shake series, that have Scotchgard™ Protector built into the shingle itself. This helps protect your new roof from the black streaks that can be caused by the presence of algae. The component roofing systems from Atlas utilized by our Kennesaw roofing service qualifies for the manufacturer's transferable warranty, including non prorated labor and materials, at no additional charge. Contact us for details!
The expert Kennesaw roofing service and roof replacement professionals at SuperiorPRO will use best practices and premium products when installing your new roof. The protection your roof provides is only as good as the materials used, so our team uses the best ice and water shield, underlayment, starter shingles, asphalt shingles, and ridge vents. We will treat your property as if it were our own home.
Your house is one of the biggest investments you will make, and SuperiorPRO is here to help protect that investment. Contact our team today for a free estimate. You can trust SuperiorPRO to respond quickly and professionally to your needs!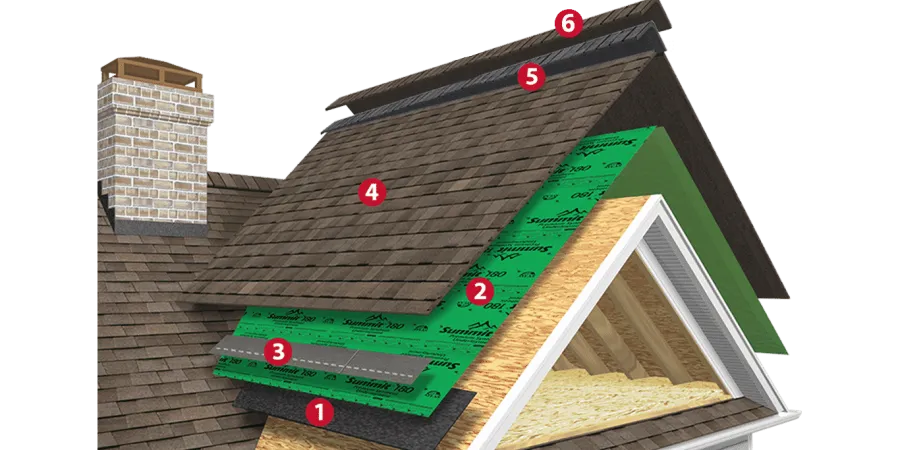 5- Ridge Vent
Protect the closest area to your home from harsh weather conditions.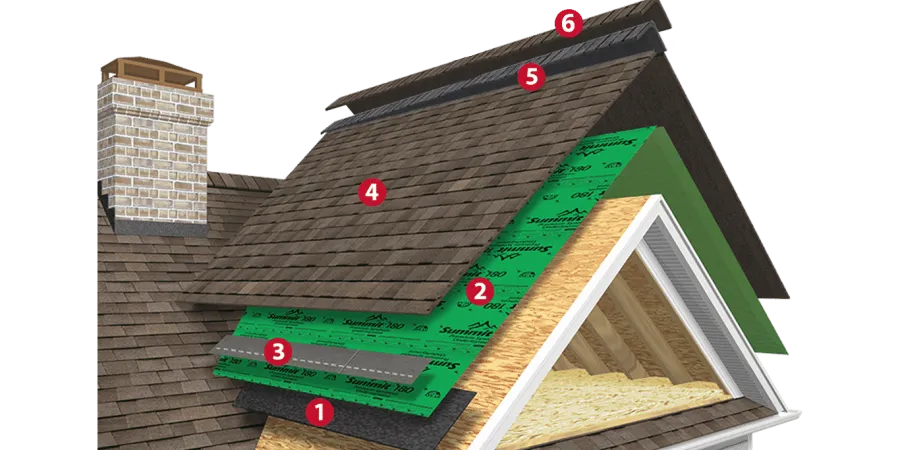 6- Ridge Cap
Protect the closest area to your home from harsh weather conditions.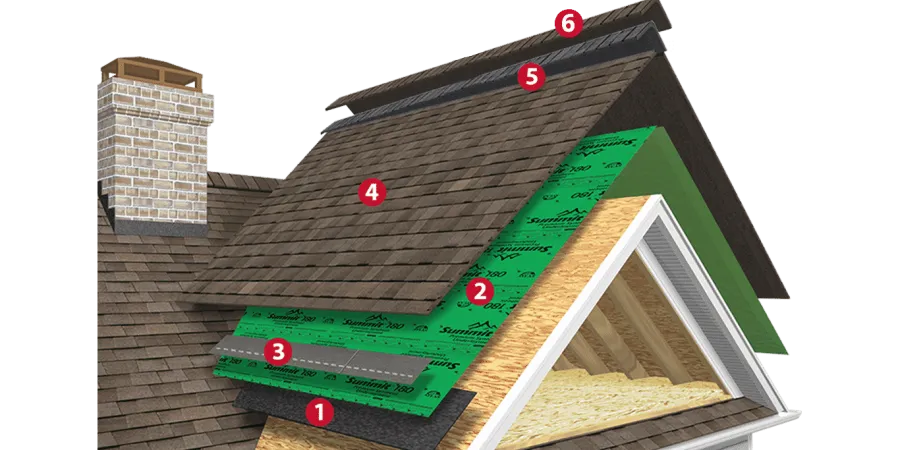 2- Premium Synthetic Underlayment
Protect the closest area to your home from harsh weather conditions.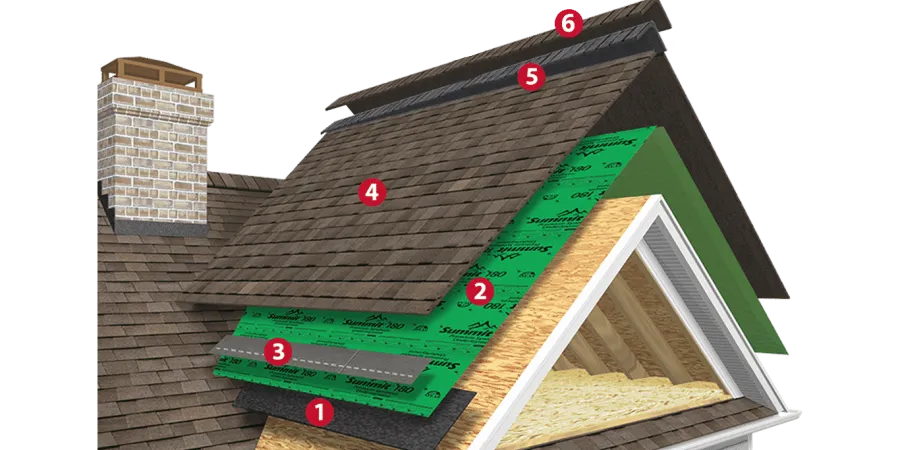 3- Premium Starter Shingle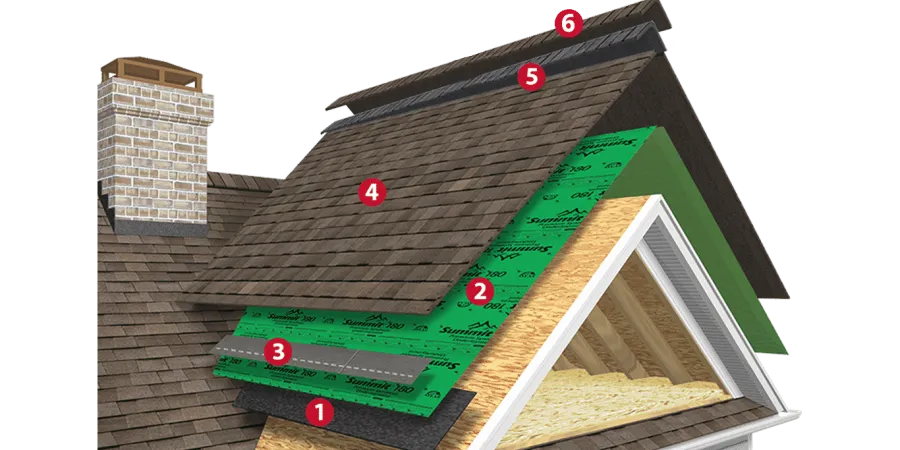 4- Premium Asphalt Shingles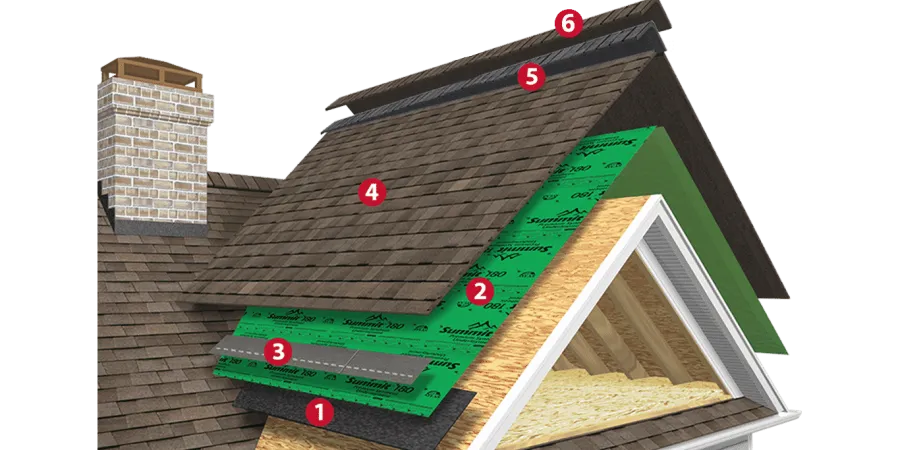 1- Premium Ice & Water Shield