Sliding doors are a stylish and functional addition to your space. Contemporary sliding doors offer a clean and minimalist appearance, replacing the need for bulky traditional doors. They free up your space, quickly tucking into walls. Whether you aim to create more room for furniture or enhance privacy, explore these contemporary sliding door ideas below.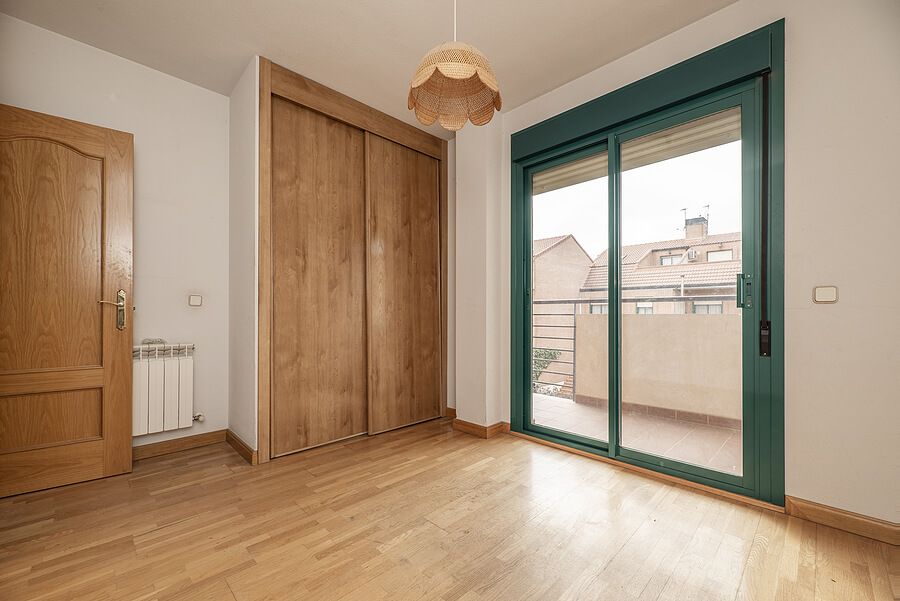 Bedroom Sliding Doors
Consider installing a traditional pocket door as a sliding door option for your bedroom. These doors operate smoothly, providing a clean and chic look without the hassle of managing hinges and door swings. They are a perfect choice for maintaining a seamless aesthetic in your home.
Another great idea is to add sliding doors to a studio apartment or loft to create a private sleeping area. These movable room dividers exude sophistication while functioning as an accent wall to provide privacy when needed.

Office Sliding Doors
Incorporating glass sliding doors into your home office maintains a visual connection with the rest of the house while allowing natural light to flow through. For corporate offices, glass-slatted sliding doors ensure privacy during work, allowing occupants to observe their surroundings when necessary.

Contemporary Sliding Patio Doors
Modern patio doors bring the outdoors inside and light your room using natural sunlight. Contemporary sliding patio doors deliver clean, unobstructed views and divide your room from the patio. These modern patio doors are a great option to separate your room from the patio while still enjoying nature.

Bathroom Sliding Doors
Choose from clear, tinted, or frosted glass for bathroom doors, each offering varying levels of privacy. Ribbed-finished glass sliding doors maintain privacy while permitting natural light to enter, perfect for creating a minimalist style, particularly in smaller rooms. Pocket doors can save space, and an oak door slab with a herringbone design adds a spa-like Japandi-style vibe to your bathroom.

Kitchen Sliding Doors
Modern sliding doors can enhance your kitchen's style while minimizing cooking sounds. They allow you to close off the kitchen when needed while maintaining visual connectivity with other rooms. Consider wood slat sliding doors for easy access and space-saving. A chalkboard paint sliding door can be a unique addition to your kitchen pantry, while rustic and vintage-style barn doors provide great DIY options.

Living-room Sliding Doors
Modern sliding doors can divide an open-concept living room into multiple areas, enhancing privacy and optimizing space utilization. You can create visual interest by using various wood-- panel doors, and combining art with sliding doors can make them a focal point in your room.

Closet Sliding Doors
Sliding doors are an effective way to organize your closet and storage space while adding a touch of beauty to your bedroom. The choice of shades and materials can make them a focal point in the room. They can also cleverly conceal your TV space or wall storage, such as laundry and kitchen items. A mirror sliding door serves a dual purpose, offering a full-length mirror without taking up extra space and creating a spacious feel in your bathroom.

Benefits of Contemporary Sliding Doors:

Space Optimization: Contemporary sliding doors save space by eliminating the need for swing areas, making them ideal for smaller rooms or open-concept spaces.
Natural Light: They invite ample natural light into your home, reducing the need for artificial lighting and creating a bright and inviting atmosphere.
Energy Efficiency: Many contemporary sliding doors feature advanced insulation technology, improving energy efficiency and reducing heating and cooling costs.
Safety and Security: Strong locking mechanisms and toughened glass enhance home security, ensuring the safety of your loved ones and belongings.
Natural Ventilation: They facilitate fresh air circulation, promoting better indoor air quality during pleasant weather.
Call SuperiorPRO for Your Next Renovation Project
If you're considering a renovation project that involves installing contemporary sliding doors in Atlanta, look no further than SuperiorPRO. We are among Atlanta's premier home renovation experts, ready to help you find the ideal components for your indoor and outdoor spaces. Let us guide your home renovation project to unlock the elegance of contemporary sliding doors. Reach out to SuperiorPRO today for a free quote and transform your living spaces with style and functionality.