When it comes to exterior home renovations, selecting the right siding can have a massive impact on your property's appearance, value, and longevity. One product that's gaining popularity is Hardie siding. Here's how it can benefit your home: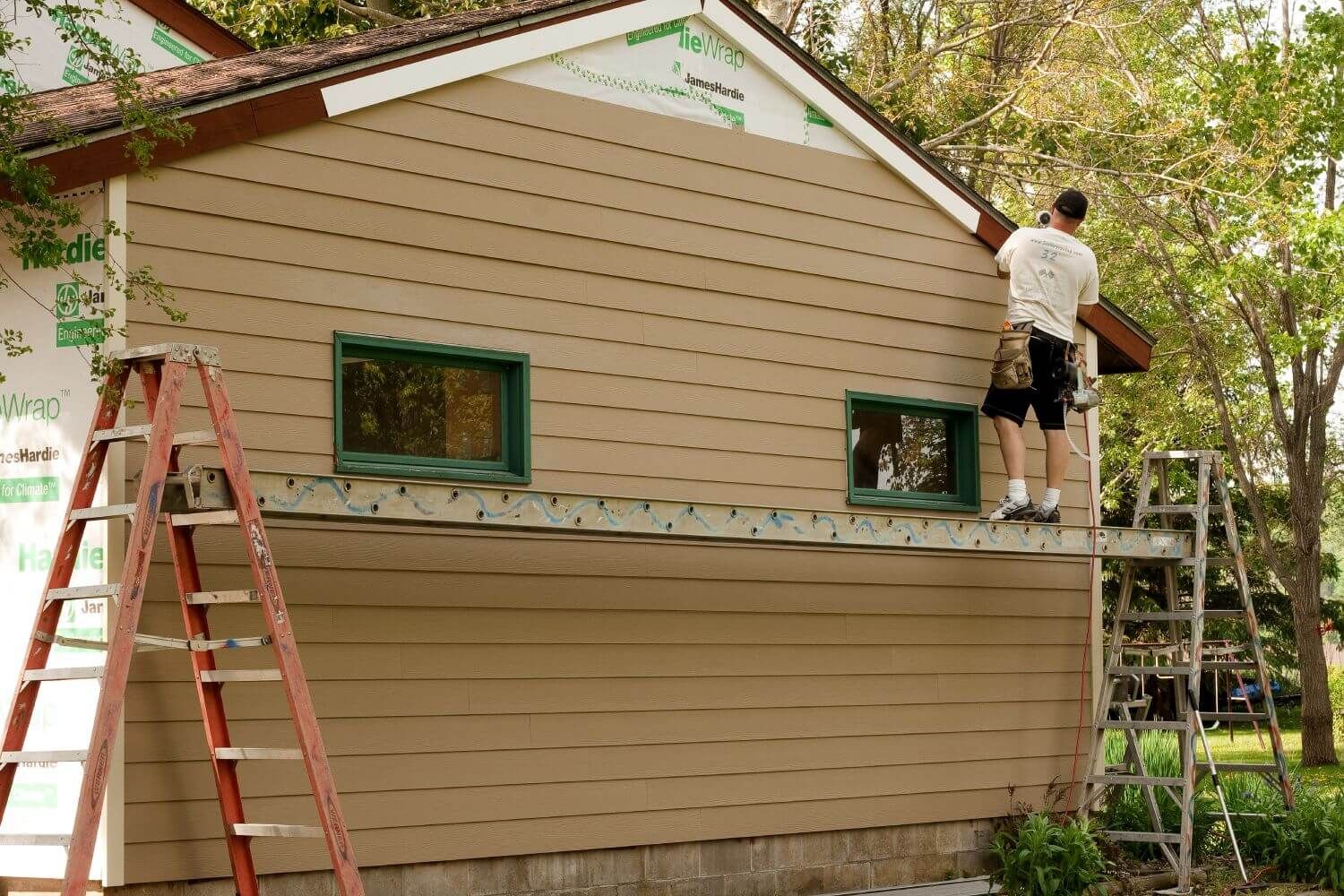 What Is Hardie Board and Batten Siding?
Hardie board and batten siding is a premium fiber-cement option known for its durability and attractiveness. It's becoming a popular choice for modern homeowners, designed to mimic the appearance of wood without the same maintenance and wear-and-tear issues. Hardie Board's unique design also offers versatility, fitting various architectural styles. This type of siding also comes with a texture that complements traditional and contemporary homes. Its robust composition ensures it doesn't warp or crack, giving your home a fresh look for years. Discover more about how fiber-cement siding compares to wood siding here.
How Does Hardie Board Siding Cost Compare to Other Options?
While Hardie board siding cost may be slightly higher than alternatives like vinyl, the investment is worth it. The superior quality, lifespan, and aesthetics justify the price, making it a smart investment for long-term benefits. Moreover, it offers a return on investment by enhancing curb appeal and increasing home resale value, providing added value for homeowners. The longevity and reduced maintenance needs also translate into cost savings over time. With a unique blend of performance and visual appeal, Hardie Siding represents a worthwhile investment for discerning homeowners looking for something beyond the ordinary.
Is Hardie Siding Installation Complicated?
Hardie siding installation requires expert handling to ensure a perfect finish and adherence to warranty requirements. With its skilled team, Superior Pro can ensure a seamless installation process. This also ensures the product's durability and visual appeal are fully realized. A well-executed Hardie siding installation enhances the home's structural integrity and energy efficiency. The product is engineered with meticulous precision and thus demands an equally precise installation process. Read more about the perfect partnership between Superior Pro and James Hardie Siding here .
How Does Hardie Board Compare to Vinyl Siding?
When comparing Hardie board vs vinyl siding , Hardie board offers enhanced durability, a more authentic appearance, and better resistance to weather conditions. Though vinyl may be less expensive initially, Hardie board's long-lasting nature often makes it a more cost-effective choice in the long run. Its strong performance over time and greater aesthetic customization options make it an outstanding alternative to traditional vinyl siding. Hardie board's makeup offers superior insulation, contributing to energy savings. Also, unlike vinyl, it does not fade over time, maintaining its vibrant look and providing a sense of timeless beauty.
What Other Benefits Can Hardie Siding Offer to My Home?
Apart from the benefits discussed above, Hardie Siding provides the following:
Fire Resistance: It is non-combustible, offering additional safety.

Pest Resistance: Unlike wood, it doesn't attract termites or other pests.

Weather Durability: Stands up to extreme weather conditions, including heavy winds and hail.

Aesthetic Appeal: With a range of colors and styles, it suits any home design.

Environmentally Friendly: Manufactured sustainably, it's an eco-conscious choice.
In addition to these practical benefits, the Hardie siding's unique design flexibility allows homeowners to achieve the exact look they desire, elevating their home's overall aesthetic. Its low maintenance requirements further add to the appeal, giving homeowners more time to enjoy their beautiful homes rather than work on them. The material's inherent properties also contribute to superior noise insulation, adding to the home's comfort and tranquility.
Ready to Transform Your Home with Hardie Siding?
If you are considering a home renovation combining beauty with resilience, Hardie Siding might be the right choice. From Hardie board and batten siding to a seamless Hardie siding installation , Superior Pro has you covered. A decision to opt for Hardie siding is investing in quality, aesthetics, and peace of mind. Moreover, Hardie Siding complements other home improvements like roofing, painting, and gutters, offering a comprehensive solution for homeowners looking to enhance their property. With a customer satisfaction track record, Superior Pro is ready to assist you. Contact us today and let's transform the look of your home together!