Siding is crucial to a home's exterior's aesthetic and overall feel. While horizontal siding has been a traditional choice for homeowners, vertical siding makes waves in modern home design. This article highlights the top vertical siding styles and designs, from vertical vinyl siding to Hardie vertical siding. It offers some innovative vertical siding ideas for your next home renovation project.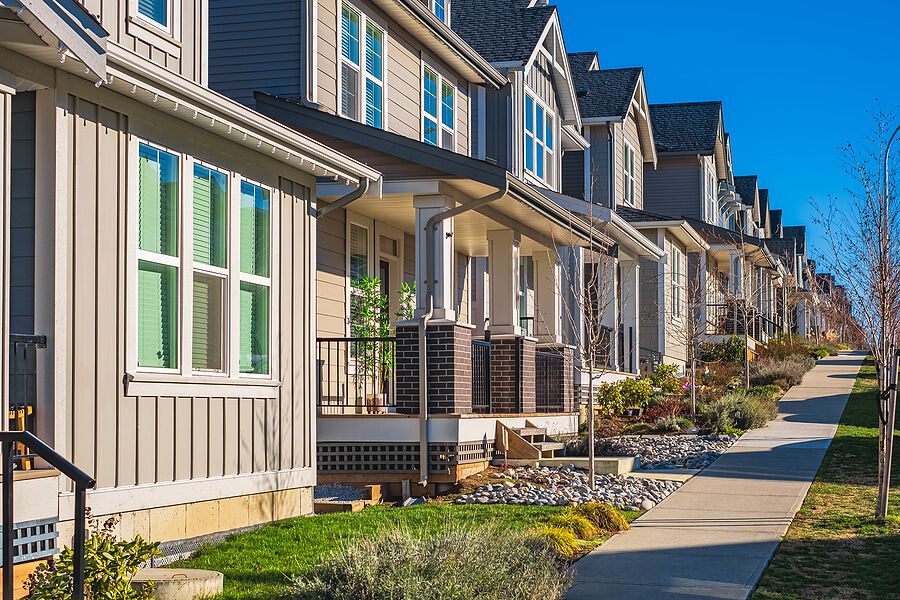 Board and Batten Vertical Vinyl Siding
Vertical vinyl siding, especially in the board and batten style, is widely preferred among various siding options. Characterized by alternating wide boards and narrow battens, this style emanates a rustic yet modern charm that can significantly enhance your home's curb appeal. The inherent benefits of vinyl as a siding material — durability, low maintenance, and cost-effectiveness — make it an attractive option for homeowners. The board and batten vertical vinyl siding design is visually appealing and provides a traditional touch with a modern flair, making it a perfect blend of the old and new.

Tongue and Groove Vertical Wood Siding
Vertical wood siding in a tongue and groove design can be a superb choice for those who prefer natural materials. This style features interlocking boards that create a sleek, clean appearance. Whether painted or stained, the wood adds warmth and texture, making your home feel inviting and comfortable.
However, it's crucial to note that, unlike synthetic materials like vinyl, wood requires more maintenance to stave off potential issues such as rot, warping, and insect damage. Despite the maintenance requirements, the timeless and inviting aesthetic of tongue and groove vertical wood siding could significantly enhance your home's value.

Hardie Vertical Siding with Flat Panels
Hardie vertical siding is a fiber-cement option that offers a blend of durability with design versatility. Flat panels in Hardie siding can lend a modern and contemporary look, aligning well with modern architectural styles. This type of siding is a long-term investment due to its resistance to adverse weather conditions and pests. From a design perspective, flat panels in Hardie siding offer a clean, minimalist aesthetic that appeals to individuals who favor modern or contemporary styles. With the possibility of painting the siding in virtually any color, the customization possibilities are endless, allowing homeowners to tailor their home's exterior to their tastes.

Ribbed Metal Vertical Siding
Aiming for an industrial or minimalist look? Ribbed metal vertical siding could be an excellent choice. Available in various colors and finishes, the ribbed texture creates a dynamic interplay of light and shadow, adding a unique architectural detail to your home. Ribbed metal siding is built to last and is highly resistant to elements like extreme temperatures, moisture, and even fire. This resilience translates into lower maintenance costs, making it a sound long-term investment. Unlike wood or vinyl, metal is not susceptible to rot, warping, or insect damage, making it a low-maintenance yet aesthetically appealing choice.

Mixed Material Design
One of the more creative vertical siding ideas is to mix and match different siding materials and orientations. You could combine vertical wood siding with stone or brick or even integrate horizontal and vertical orientations for a multidimensional aesthetic. This design approach allows homeowners to experiment with colors and textures, creating a truly customized and eclectic look.

Getting Started
Vertical siding offers various options for homeowners looking to make a statement with their home's exterior. Whether opting for vinyl, wood, or Hardie materials, the vertical orientation can provide a fresh, contemporary look that distinguishes your home. As you contemplate your siding choices, consider factors like durability, maintenance, and cost to select the most suitable style to meet your needs and preferences.

By exploring these vertical siding ideas and consulting with siding experts, you can achieve a tailored design that complements your home's architectural style while enhancing its curb appeal and value.

Feel free to explore these ideas and consult a SuperiorPro expert to understand what will work best for your home. Your imagination is the only limit!