Colonial homes are a common and classic American architectural style. Selecting the right siding style and color is important to make your colonial home stand out. This guide helps you choose the perfect siding and color options for your colonial home's aesthetics.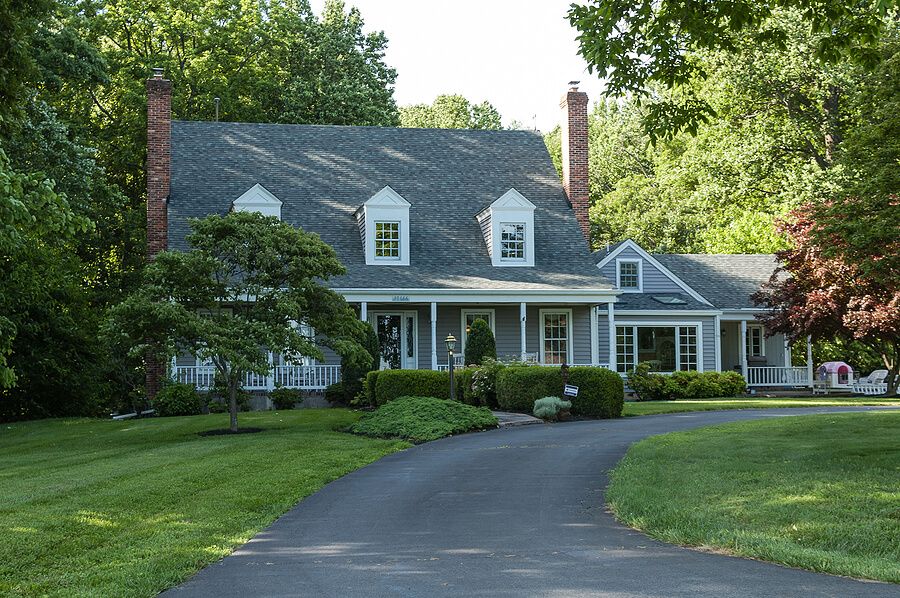 What Architectural Features to Consider? 
Homeowners should consider some unique conditions before they remodel their colonial homes. You must adhere to specific siding and color regulations if your home is historically significant. Even for non-historic colonial homes, architectural features play a role in your design choices.

Symmetry: Colonial homes usually have a symmetrical design on both sides of the house. Such houses can have specific focal points like a front door. You can enhance the focal points of your house to make it stand out. 
Gable Proportions:  These sloped, triangular architectural elements are a prominent feature of colonial homes, and their proportions play a crucial role in maintaining the home's historical integrity. When remodeling, the gable angle tool can help determine the angle and the pitch of your gable roof .
Additional Stories: Colonial homes are usually two-story houses. You might like to choose siding designs and colors that leverage the additional floors, creating dramatic dimension and visual appeal.
Which Siding Styles Look Great on Colonial Homes? 
Choosing options that resonate with the colonial aesthetic is essential when selecting a siding style. Here are some recommended choices: 
Traditional Horizontal Siding: You can use classic lap siding to add a natural look to your colonial home. Often, long and grained fiber cement siding helps to add a woody look that needs lower maintenance. Go for deep and dramatic colors to make it visually attractive. But to achieve a timeless look, better pick white or gray shades. 
Shake Siding: Shake siding can be an alternative to horizontal boards if you don't prefer them so much. They can create an elegant and traditional look. You can opt for durable fiber cement shakes that don't require costly upkeep. 
Mix Siding Styles: You can mix different siding types and create a unique appearance for your colonial home. Some James Hardie Sidings have unique designs that blend well with traditional homes. 
Board and Batten Vinyl Siding: Use board and batten siding to create a modern farmhouse style that perfectly complements a colonial home. A horizontal lap siding on the lower story with vertical planks overlaid with HardieTrim on the upper gables makes the house stand out. 
What Colors Pair Well with Colonial Homes? 
While brown, white, and barn red are popular colonial siding colors, modern options offer more diversity. Here are some suggestions that maintain the colonial vibe while adding a fresh twist: 

Light-Colored Siding with a Bold Door: When you have subtle, neural shades for your siding, you can be focused on the door as it's a focal point of your house. Siding colors can be white, gentle gray, or soft beige, whereas the door color can be yellow, red, turquoise, or lime green. 
Golden Yellow Siding with White Accents: A warm golden yellow can bring a cheerful, sunny, and welcoming vibe to your house exterior. You can pair this siding with white trim and shutters. The door can be painted dark blue. 
Sage Green Siding with White Accents: A unique option can be sage green siding - a gentle, muted green. You can enhance the style even more by using clean white accents. This combination is ideal for historic colonial houses. 
Mint Siding with Green Shutters: A bright mint color on the siding can look phenomenal with hunter-green shutters. This combination adds a personality to the colonial architecture, making it stand out from other houses. You can keep the accents and front door white to complement the design. 
Blue-Gray Siding with Greenish Door: Blue-gray shades were used on colonial homes in the 1700s. This kind of color looks classic. Combining classic and modern styles, you can use a spring green door and accents with the blue-gray siding. 
Blue Siding with Black Accents: A soft blue color with gray or green undertones can add a bright, airy look to your home. But make sure you don't pick too bright or pale shades. You can combine the siding colors with black accents and the door, making it more elegant. 
Eight Things to Consider When Choosing Siding for Your Home
Choosing the right siding for your home can be overwhelming. Here are eight things to consider:

Engineered for Climate: James Hardie siding is made with a special blend of cement, sand, and cellulose fibers, making it strong and durable. A 50-year warranty also backs it.
Moisture and rot resistance: James Hardie siding has a special moisture barrier that helps prevent moisture from penetrating the siding. This helps to prevent mold, mildew, and rot.
Price. The upfront cost of siding is important, but don't forget about the cost of maintenance and repairs over time. Choose a siding that will last many years without needing much maintenance.
Insect and pest control. Some siding materials are more susceptible to damage from insects and pests than others. Choose a siding resistant to pests so you don't have to worry about costly repairs.
Weather-resistant. The siding should be able to withstand the weather conditions in your area. If you live in a cold climate, you'll need a siding that can withstand freezing and thawing. If you live in a hot climate, you'll need a siding that can withstand heat and humidity.
Maintenance. Some siding materials require more maintenance than others. If you don't want to paint or stain your siding, choose a low-maintenance material like vinyl. Non-combustible: James Hardie's siding is made from non-combustible materials, so it won't contribute to a fire. This can help to protect your home in the event of a fire.
Warranty. A good warranty can protect you from costly repairs if the siding fails. Make sure to read the warranty carefully to understand what is covered.
Ultimately, the best siding for your home will depend on your specific needs and budget. Consider all of the factors above when making your decision.
If you are overwhelmed by designing your new, refreshed, modern home look or just want someone else's support to help get the job done. Superior PRO, LLC, is a top-rated home renovation contractor in Atlanta with free in-home design consultation to help you tackle any project. They offer siding and painting services to help you complete your exterior renovation and elevate your colonial home's aesthetics.