Wondering how long does exterior paint last? Although there's no definitive answer, if you handle it like a pro, your exterior paint job can last about five to ten years. 
However, high-quality paint isn't the only factor that influences longevity. Some other factors help the exterior paint stand the test of time. Despite having the best paint & primer, bad prep work will result in poor paintwork. Read on to discover the techniques to make your exterior paint last longer!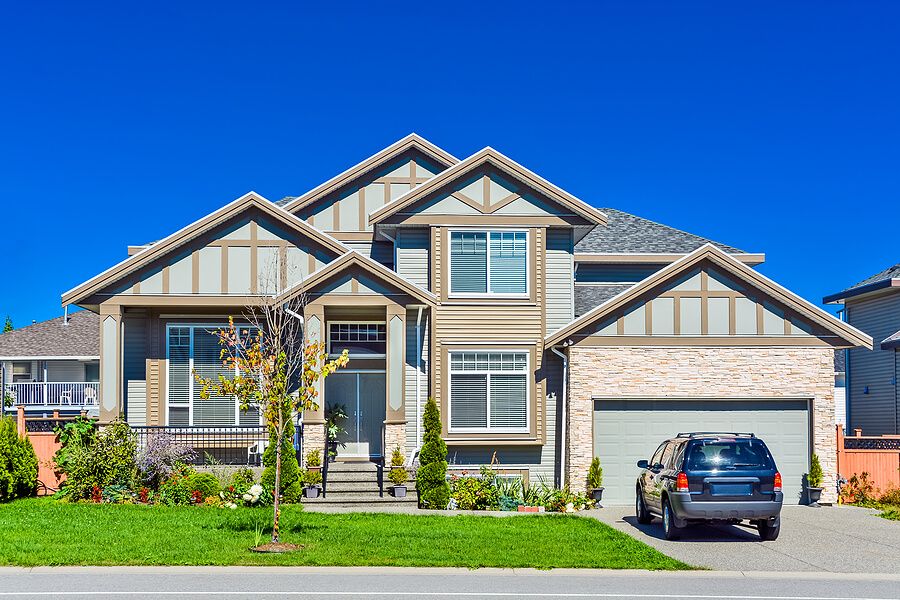 Prepare the Exterior First
If you paint the home's exterior independently, follow the steps below. Note that how you prepare the exterior will impact the paint job. If a professional contractor does the job, ensure these steps are correctly followed. 

Power Wash the Surface: If the surface has old paint, dirt, mold, or becomes flaky, the paint won't adhere as it should. Power wash to clean the surface - also, use sandpaper to scrape the rough areas before painting. 
Repair Damaged Siding: Painting can chip and flake easily if it's done on damaged siding. When the siding has rotten boards, replace them before you paint. 
Use Primer as Base: You should get high-quality primer paint before painting. So, what is primer paint? It's a base coat used underneath the paint to treat the surface. The primer coat acts as a sealer and ensures maximum adhesion. This means using a primer will help the paint job last longer. For oil-based paint, get oil-based primer only. But you can get any water- or oil-based primers for acrylic paint. 
Select the Right Type of Paint
Using the right type of paint for your paint job is crucial. Only high-quality paint can protect your house from the elements. For some certain exterior paint jobs, we recommend acrylic latex paint. These paints can offer you some advantages over oil-based paints. 
Acrylic paint doesn't harden over time or get mildew easily. They are good at preventing blistering and are an environmentally-friendly option. 
But in some cases, oil-based paints can be better than acrylic paints. For example, oil-based paint is the right choice to paint steel or iron surfaces such as steps, porches, or stoops - as they can better repel water and resist wear.
Follow Standard Painting Practices
For a DIY house exterior painting, follow these steps below to ensure your work lasts longer and you can avoid costly repainting. 
Leave No Exposed Areas: Make sure there are no unpainted areas. Otherwise, weather, rot, and mildew will easily damage those areas. Once you apply the primer, brush two coats of paint. Check if all the sides and bottoms have been fully covered with the paint
Avoid Excess Heat & Direct Sunlight: If the paint dries too quickly, it'll cause an uneven finish. This is why heat and direct sunlight should be avoided during exterior painting. You might paint the opposite side of the house when the sun is shining on the other side. Best to avoid painting the exterior when It's sweltering outside. 
Never Paint Wet Surfaces: Avoid painting after heavy rain or prep washing because the paint cannot stick properly to wet surfaces. Before planning an exterior painting, check the weather forecast to prevent rain from damaging your plan. 
Place Your Plants Carefully
If you love a lush green garden full of shady trees, be more careful where you put your hedges, trees, and flowers. This is because plants near your house walls can create moisture. And moisture leads to erosion and rot, eventually damaging the exterior paint. So, it's best to be mindful of your landscape before you paint your home's exterior. 
Clean the Home's Exterior Annually 
Keep dirt, mildew, and debris from building on your home's siding and trim. They don't just look bad but also fade the exterior paint over time. Clean your home's exterior at least once a year. Hose down or pressure wash the outer surfaces. 

Treat Interior and Exterior Damages 
Your home's exterior paint can be damaged when the inside isn't in good shape. Leaky roofs, damp basements, and poor bathroom ventilation can lead to moisture issues. 
And moisture can cause paint to peel, mold, or bubble on the exterior surfaces. If you see such problems in your home, take the necessary steps to fix these. Use dehumidifiers if needed. 
Rotting, water damage, splintering, and cracking can appear on the exterior siding. Such problems can be caused by rain, snow, and wind exposure. So, you must repair the siding as soon as you notice these issues. If you leave the damaged siding untreated, the problems might get severe and require expensive repairs later. 

Where to Find Best Paint & Accessories? 
Superior Pro is an authentic supplier of high-quality Sherwin Williams exterior paint and painting accessories. Planning to paint your home's exterior in Atlanta? We can help you with painting services and tools while offering you a long-lasting beautiful finish. Contact us today to get a free quote from Superior Pro.